SING&SEE Software
Student Version: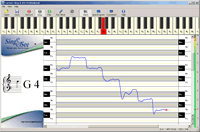 Designed for use by singing students and anyone wanting to begin the process of improving their singing voice. This version of the software provides real-time pitch feedback in three modes designed for singers - piano keyboard; music stave; and pitch trace. See what Sing&See can do for your voice!
This version can be used by singers working alone or as a practice tool for singers working with a Sing&See singing teacher.
Professional Version: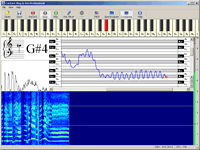 The Professional Version of Sing & See provides the most flexibility to singing teachers or professional singers who want to get the most out of their voice.
This version has advanced features such as a combined display offering integrated spectrographic and pitch views of the voice, and the ability to save and replay voice recordings.
Teacher's Manual: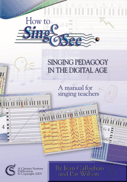 How to Sing and See: Singing Pedagogy in the Digital Era by Jean Callaghan and Pat Wilson
(ISBN 0-646-42925-6)
Specially designed for teachers using Sing & See, the Teacher's manual is a comprehensive guide to using Sing & See in ways that will foster both vocal and musical development. It includes explanation of the on-screen visual displays, a discussion of vocal questions that need to be considered in the individual application of the software, and over 200 exercises. The exercises cover intervals, triads and a comprehensive range of scales and modes used in a range of vocal musics. A page is devoted to each exercise, with the same layout, giving musical notation of the exercise, a brief explanation of its purpose, a reproduction of the target display and instructions on how to achieve it. The manual begins with the most basic singing task and builds from there, so you can choose exercises to build a graded vocal and musical developmental program, or to answer specific needs of individual students, or to construct a personal practice regimen.
Sorry, the Teacher's Manual is not currently available for sale from our website.
If you're a singing teacher click here to read about using Sing & See in teaching
Or if you're a singer, click here to read about using Sing & See to train your voice