Sing & See Product range
Student - Professional - Teacher's Pack - Multi-Packs - Teacher's Manual
Student Version: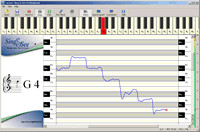 Designed for use by singing students and anyone wanting to begin the process of improving their singing voice. This version of the software provides real-time pitch feedback in three modes designed for singers - piano keyboard; music stave; and pitch trace. See what Sing&See can do for your voice!
This version can be used by singers working alone or as a practice tool for singers working with a Sing&See singing teacher.

Professional Version: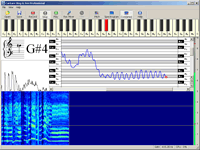 The Professional Version of Sing & See provides the most flexibility to singing teachers or professional singers who want to get the most out of their voice.
This version has advanced features such as a combined display offering integrated spectrographic and pitch views of the voice, and the ability to save and replay voice recordings.

Teacher's Manual: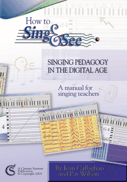 How to Sing and See: Singing Pedagogy in the Digital Era by Jean Callaghan and Pat Wilson
(ISBN 0-646-42925-6)
Specially designed for teachers using Sing & See, the Teacher's manual is a comprehensive guide to using Sing & See in ways that will foster both vocal and musical development. It includes explanation of the on-screen visual displays, a discussion of vocal questions that need to be considered in the individual application of the software, and over 200 exercises. The exercises cover intervals, triads and a comprehensive range of scales and modes used in a range of vocal musics. A page is devoted to each exercise, with the same layout, giving musical notation of the exercise, a brief explanation of its purpose, a reproduction of the target display and instructions on how to achieve it. The manual begins with the most basic singing task and builds from there, so you can choose exercises to build a graded vocal and musical developmental program, or to answer specific needs of individual students, or to construct a personal practice regimen.
Get the Sing & See Teacher's Manual from Lulu.com for $79 only $59.25 US dollars plus shipping:


Get a paperback version of the Sing & See Manual for $59 from CreateSpace.com:


Teacher's Pack:
| | | |
| --- | --- | --- |
| | + | |
The Sing & See Teacher's Pack contains the Sing & See Professional singing software and the Teacher's manual How to sing and See. The price includes shipping for a copy of the Manual.

Multi-Packs:
The Sing & See
Chorus Pack contains
10 licences for
Sing & See Student Version
which can be distributed
to your students.
Please contact us if you require
a custom quote


If you're a singing teacher click here to read about using Sing & See in teaching

Or if you're a singer, click here to read about using Sing & See to train your voice



Information Pack
If you would like to find out more about Sing & See before purchasing, please contact us here:

" I don't see why every singer doesn't use this tool. As a singer, you hear (or should hear) the music and pitches in your head as you vocalize a song. And this comes from remembering the music and the pitches. If you're singing off pitch, you're remembering, for recall, off pitch notes. I think any singer who is serious about their craft should definitely use this tool as part of their daily exercises to improve their pitch accuracy, and to help them better distinguish, pitch wise, between a sharp, flat and natural note. "
-- Stephanie, NJ

"I use Sing and See to check my pitch on songs while practicing my part alone, especially on those songs where I have a bass pickup notes, to ensure that I am exactly on pitch. The visual feedback helps tremendously in establishing the correct pitches into my brain muscle memory, much more so than trying to match a pitch pipe. "
-- Walt, TX

"I sing in a number of singing groups including a small a cappella choir. I use Sing & See when I'm practising at home to check my tuning and pitching. It quickly identifies when I am inaccurate, prompting me to pracise specific sections, and boosts my confidence enormously if I am singing consistently in tune."
-- Joyce, UK

"This is AMAZING software! I've never really even thought I could sing, and honestly thought my choir director was just being kind when he'd tell me I was on pitch...but now that I can SEE that I'm on pitch, it is giving me a lot more confidence to increase my volume!"
-- Sharon, TN

"Sing and See really comes into its own when working with clients who are having trouble with intonation (pitch recognition). The visual representation on screen enables a client to make a better connection of the BodyMind."
-- Daniel Kay, Queensland, Australia

" one of the very successful things happening is working with students with the sight-reading who have nobody at home to listen to them and tell them if they are correct or not. I have a young boy right in the midst of the dreaded voice change and singing 1/2 tones are not happening, however, I made up a series of little exercises for him, and it truly is helping him. That also is helping him with his scales - particularly descending harmonic minor scales.
I love this Sing & See!"
-- Patrice, Canada

"As a retired technical guru, I did conduct some bench testing of frequency response and bandwidth across select octaves of chromatic scales, and was amazed as to accuracy of these results. I have found that "sing & see" provides many characteristics as an instrumental tuner, with great accuracy. "
-- John, TX

"I have worked with a few students this week and it is quite interesting. It is surprising to have something objective suddenly appear in a voice lesson! It's not just my "opinion" or comment of the day. Students look at the screen, remain silent for a moment and often say themselves what is not right before I need to! One young girl discovered the lack of volume and energy in her voice. Another saw how his voice moved around too much on a held tone. Very interesting indeed!"
Susan, France

Sing & See has been certified by Softpedia as being 100% clean: