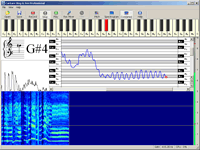 Sing & See Vocal Training Software provides precise feedback in a range of visual displays that complement and enhance the feedback you give to your students.
Singing teaching can be very rewarding, but it is also hard work. As a teacher, you need a wide knowledge and a deep understanding of the instrument to help your students to explore and develop the full potential of their voices.
Many teachers are now realising that visual feedback technology can provide an additional tool in their repertoire - a tool that can make explanations easier, can clarify feedback, can provide focus for self-directed learning, and can even help to highlight vocal issues in a non-confrontational way.
Whatever has brought you to this website, I invite you to read on to find out how our innovative singing software tool Sing & See can help to enhance your teaching and provide your students with the kind of voice training that will give them real benefits in improving their vocal skills.
Sincerely
William Thorpe
Cantovation Technology

Before reading on about how Sing & See can benefit your teaching practice, take a look at this short video where you can hear from singing students themselves how Sing & See is helping them to gain a clearer understanding of their voices and what they need to do to improve their singing technique.
Sing & See was developed by a team of singing teachers and voice analysis experts at the University of Sydney in Australia, as part of a research project into how visual feedback technology can assist vocal skills acquisition. The teachers who were taking part in our research studies were so impressed by what the singing software could do for their students that they didn't want to give it back at the end of the study! So we decided to produce a version of the technology that could be made more widely available. Singing teachers all around the world are now using the singing software and associated pedagogical guide in their teaching in schools, universities, and private studios.
Sing & See is a powerful visual feedback voice training software system that provides a wide range of feedback displays for vocal training. It can be used directly in the singing lesson, or as a guide for self-directed practice either in the classroom or at home.
Sing & See enables singers to actually see their voice on the computer screen - while they are singing, and then again while they listen as what they just sang is played back. The singing software contains sophisticated algorithms that analyse the voice to work out what pitch is being sung. It is then displayed on the computer screen in musically relevant displays that help the singer gain a deeper understanding of how their voice "fits" into the musical structure.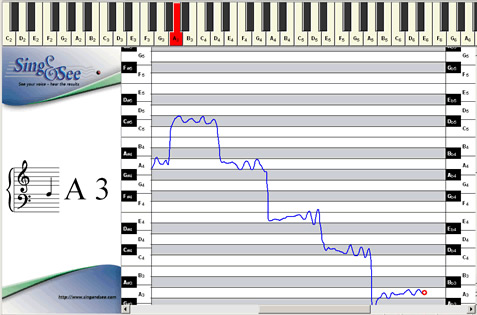 Sing & See Voice Pitch display - the note is shown clearly by the change of colour on the piano keyboard, and also by the stave-note display. The history of the sung note is shown by the blue line trailing the red dot.
Now, how about singing a simple interval or pitch exercise. See how the Sing & See display shows you not only whether the singer is hitting each note exactly, but how the voice makes the transition between notes. You can immediately see if there is overshooting or scooping, clear vibrato, roughness, etc. Conversely, the singing software can also provide students with positive reinforcement that they are achieving a clean vocal line.
As well as showing you a line of the exact pitch the voice traces over time, Sing & See helps to visualise singing in a musical context. It highlights each note sung on a virtual piano keyboard at the top of the screen, and also on a musical staff displayed on the left side. So students get an immediate visual understanding of how each pitch in their vocal range relates to music both as it is written and as it is played on the keyboard.
Sing & See vocal training software also includes real-time spectrographic analysis, which provides in-depth information on the harmonic structure of the voice, allowing you to explore questions such as vowel consistency, vocal timbre, and upper harmonic strength.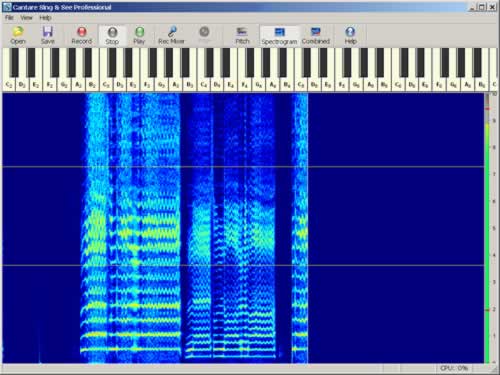 Sing & See Vocal Training Software was originally developed at the University of Sydney by a team comprising individuals with a wide range of expertise and experience, from singing pedagogy and performing to acoustic analysis algorithm development.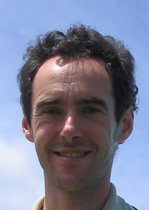 Dr William Thorpe is an engineer and scientist who spent several years working at the National Voice Centre and the School of Communication Sciences in the University of Sydney in Australia, doing research into how people sing - the physiology of their breathing, what it means to have good "breath support", the acoustic patterns of vocal projection, and various other aspects of singing performance. In doing this research he worked with many singing teachers, including Janice Chapman, Jo Estill, Jean Callaghan, Pat Wilson, and others. They published the results of their research in scientific journals and presented it to singing conferences around the world. If you are interested in finding out more about any of this research, you can contact William here.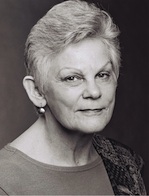 Dr Jean Callaghan is a teacher, researcher, and consultant in vocal performance and pedagogy. At the University of Western Sydney she designed and delivered Australia's first full postgraduate qualification in singing pedagogy. She has worked as a professional singer in Australia, England and Germany and has taken leadership roles in the Australian National Association of Teachers of Singing (ANATS), the Australian Voice Association (AVA), and the Australian Association for Research in Music Education (AARME). Her book, Singing and Voice Science, explores modern voice science and scientific findings in the context of the musical concerns of the singer.You can view Jean's Studio website here.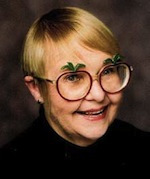 Pat Wilson has worked for over 25 years as a singer, pianist, musical director, composer and teacher. She teaches at several tertiary drama training institutions, as well as maintaining a singing studio in her specialist field of music theatre performance. She has been an office-bearer at both the state and federal levels of ANATS. Her book The Singing Voice: An Owner's Manual,jointly published in Australia and the UK, is in its second edition. She has recently completed herMaster's thesis in the use of visual feedback in learning to sing (using Sing & See), at the School of Communication Sciences and Disorders, University of Sydney. View Pat's studio website here.
Professor Jan van Doorn, a physicist with a long-standing interest in adapting technology to voice science, was one of the original researchers in the visual feedback research project. She is currently professor in speech science at Umeå University, Sweden.
Jonathon Crane has an honors degree in Computer Engineering from the University of New South Wales and was the primary software developer on the original version of Sing & See. His strong interest in music has resulted in several commercial releases, material from which he performs regularly. Jonathon is learning the piano and sings in a choir.
After the research project ended, we started a company to further develop the Sing & See software and make it available to singers and teachers around the world. Cantovation (of course, "Canto" is singing, and "Ovation" is what we hope you and your students will be receiving after using Sing & See!) has the mission "to help people sing better and have more fun in their singing, by creating innovative technology that lets people improve and enjoy their voices". Sing & See is now being used in over 60 countries around the world, and It is very satisfying for us to hear feedback from teachers using Sing & See about how it is helping their students learn better, and from singers whom it has helped break through their learning blocks.
Sing & See is designed to meet the needs of singers and teachers working in all vocal styles and genres. It gives an almost instant visual representation of the singing voice, allowing singers to see the acoustic characteristics of their voice while they sing, and then to listen to it being replayed - again seeing it directly on the screen.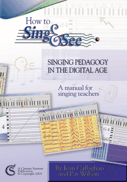 The Teacher's Manual How To Sing and See is a 284-page comprehensive guide to using Sing & See in ways that will foster both vocal and musical development. It includes explanation of the on-screen visual displays, a discussion of vocal questions that need to be considered in the individual application of the software, and a large collection of graded exercises, each laid out with musical notation of the exercise, an explanation of its purpose, the target display and instructions on how to achieve it.
The singing software can be used to illustrate aspects of your students' vocal production, as part of your normal lesson. It can also be used as a practice aid, to allow students to spend time on their own practising a particular exercise that you set. We have developed a Student Version with a simplified display, specially for this purpose. Some teachers are also using Sing & See as a way to help focus attention during warmup exercises. Indeed, there are probably as many different ways of using Sing & See as there are individual approaches to teaching singing. A few pointers to getting started are given here.
"Mirror of the voice" - real-time display of the singing voice
The visual display can be used to illuminate vocal characteristics that may not be clearly perceived by the student. For instance, if your student is having difficulty in matching pitch, then you can use Sing & See to show the student the target pitch and the pitch they are singing.
As the student slowly slides the tone up and down, the display mirrors the changes in voice pitch, giving the student visual reinforcement of what you are explaining in words. The student can then use this information to begin associating the sensation and the auditory perception of the correct pitch.
This reinforcement of correct voice pitch is also important when the student goes away to practise - they can use the visual mirror of the voice to check that they are still "in tune".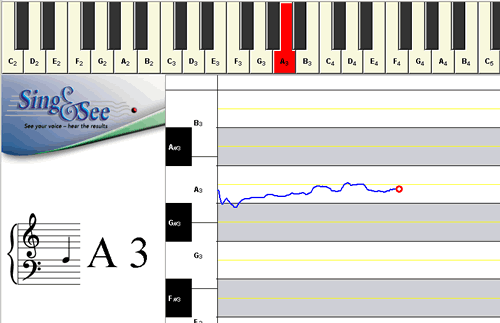 Voice Pitch display - the note is shown clearly by the change of colour on the piano keyboard, and also by the stave-note display. The history of the sung note is shown by the blue line trailing the red dot.

"Target practice" - "bio-feedback" for students to practise their singing exercises
Visual feedback can be used directly to help guide the student towards reaching a specified target. For instance, you can set a visual goal such as performing an arpeggio, and the student can spend time practising to try and better achieve that target.
Of course, if the student is to progress towards reaching the desired target - what they can see - they need to know what they should be working on to improve their performance. So you might tell them to focus on their posture, or whatever it is that you see they are lacking. The visual display however gives the student some positive reinforcement that they are getting closer to the target.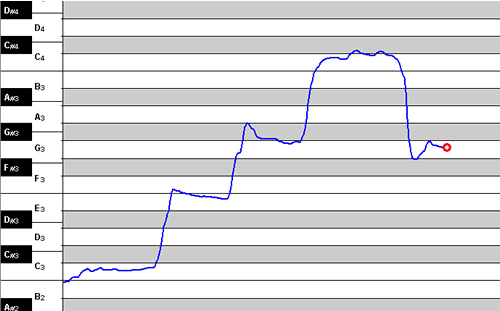 "Font of knowledge" - vocal software to explore the voice with your students
Acoustic analysis and display of the voice pitch is a rich source of information that can help the student to gain a deeper understanding of the voice and how it works. For instance, the spectrographic display allows you and your students to explore the harmonic structure of their voices and how it changes across different vowels and through their vocal range.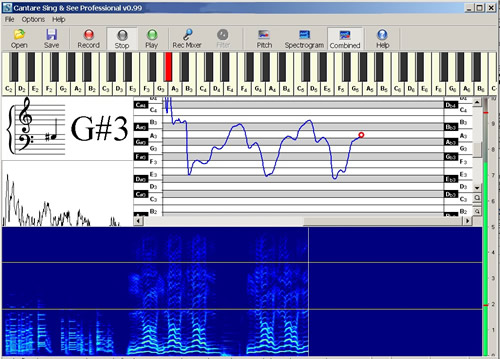 The combined display in Sing & See shows both voice pitch and spectrographic information, giving a wealth of detail about a student's voice. In this view, you can see clearly the increased higher harmonics that appear when the voice is properly supported.
Sing & See is designed to complement your individual teaching style. It is not prescriptive, but provides a variety of feedback displays that you can use to focus on particular aspects of your students' voices as you choose. Some of the benefits that Sing & See can bring to your teaching practice are described below.
| | |
| --- | --- |
| | "We have found Sing&See to be a useful teaching tool which we have implemented in each of our Studios. The visual feedback it offers gets really quick results, especially with the more cerebral students who initially struggle to achieve correct pitch with a purely aural approach. All students relate to Sing & See immediately and quickly realise that the sound they think they're hearing in their inner ear is often not accurate - the look on their faces when they first receive feedback in Sing & See often confirms this. The pitch recognition function speeds up the process tremendously as does the volume meter and identifying a breathy tone in the spectrogram. The students find the whole approach novel and fun, giving them the impression that we are a progressive Studio - which is what we're aiming for. We are delighted with Sing&See's impact on our business and consider it a valuable voice training and teaching tool when we need an alternative i.e. visual approach to identifying correct pitch, vibrato, breathy tone and volume" |
| | |
| --- | --- |
| | "We've been using Sing & See with great success in the Djarts Studios for over two years. Sing and See really comes into its own when working with clients who are having trouble with intonation (pitch recognition). The visual representation on screen enables a client to make a better connection of the BodyMind. This in turn increases confidence which ultimately leads to better intonation. Some of our clients who begin with poor intonation develop, through the use of Sing and See, to hold consistent pitch. Of course pitch recognition is not the only support that Sing and See provides our clients...but even if it were it would be worth every penny |
| | |
| --- | --- |
| | "I have used Sing and See Pro in my voice studio for the past several years. On a weekly basis, I work with 50-60 voice students, ages 7 to 70, from beginners to professionals, all styles of music. The singing software is especially useful in teaching intonation and breath management. The visual feedback and recording functions greatly simplify objective documentation of student progress. Five to ten minutes of coaching students with Sing and See has greatly reduced the time spent correcting defects such as over-singing and forcing. In the past year, ten of my students have purchased the student version. It allows them to independently work on technique without practicing errors. Sing and See Pro is an integral part of my studio and my teaching method, and I highly recommend it." |
Sing & See is a computer singing program that runs on a standard Windows PC or Mac (Intel Macs only - check this page for more details)
Read on to find out how to order and start using Sing & See on your own computer immediately. You can also choose to have a CD-ROM containing the software shipped to your address in addition to the immediate download. The CD-ROM and download versions are identical.
NOTE: If you need to order by Purchase Order or prefer to place your order by phone then please contact us directly.
As soon as you order Sing & See through our online order system, you are given a link to download the software and a unique private Product Key that will let you install it onto your computer. You will also be emailed this information so that you can download it later when it's convenient, or if you normally use a different computer.
The only equipment you require other than a computer is a microphone. Most laptop computers have a built-in microphone which can be used, although we recommend that you use an external microphone for better sound quality. If you need one we have a few recommendations on the resources page.

We use Paypal to process all payments and are a Paypal Verified business. Paypal securely handles all your credit card or bank account details (they have a choice of different methods for payment). Once your payment is complete they notify us and we then finalise your order. Paypal are probably the largest online payments company (they are part of eBay) and offer extremely high security including a policy of "100% protection" against fraud.
As soon as we receive confirmation from Paypal that your payment has been processed (this usually takes only a few seconds, unless you choose to pay by electronic check in which case it can take a few days for the payment to clear) our server automatically generates a unique Product Key and emails it to you together with the download link and detailed instructions for installing the software on your PC. Paypal also sends you an email confirming your order, so you have an independent record of your payment, and if you are dissatisfied you can even ask them to intervene. If you have also ordered the CD-ROM or the Teacher's manual we will post that out to you within 48 hours.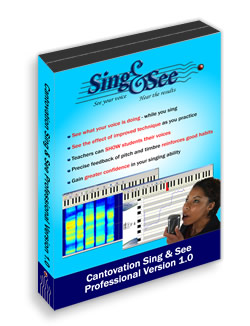 The Professional Version of Sing & See provides the most flexibility to singing teachers or professional singers who want to get the most out of their voice. This version has advanced features such as a combined display offering integrated spectrographic and pitch views of the voice, and the ability to save and replay voice recordings.


Purchase the Sing & See Teacher's Pack, containing the Sing & See Professional singing software and the Teacher's manual How to sing and See.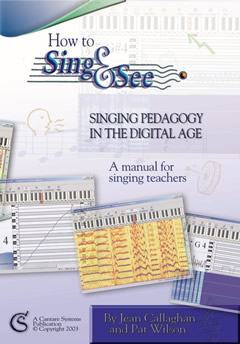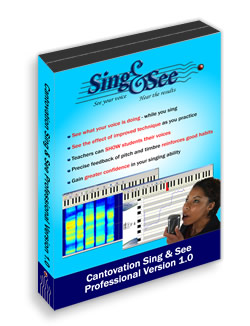 Specially designed for teachers using Sing & See, the Teacher's manual is a comprehensive guide to using Sing & See in ways that will foster both vocal and musical development. It includes explanation of the on-screen visual displays, a discussion of vocal questions that need to be considered in the individual application of the software, and over 200 exercises. The exercises cover intervals, triads and a comprehensive range of scales and modes used in a range of vocal music. A page is devoted to each exercise, with the same layout, giving musical notation of the exercise, a brief explanation of its purpose, a reproduction of the target display and instructions on how to achieve it. The manual begins with the most basic singing task and builds from there, so you can choose exercises to build a graded vocal and musical developmental program, or to answer specific needs of individual students, or to construct a personalized practice regimen.

Please do let us know how Sing & See is helping your singing teaching practice. We are always glad to hear stories about how it is helping teachers and students in their singing training, and welcome all suggestions and feedback about how to make the software even better.
Sincerely
William Thorpe
Cantovation Technology
P.S. Remember, your order is 100% risk-free, with protection given by Paypal and our own 100% satisfaction guarantee. If you prefer to order by telephone or Purchase Order, contact us directly and request an order form. If you're a school in the USA you may prefer to deal with our agent A-Prompt Corporation.
Newsletter
Sign up for our newsletter to keep up to date with news about Sing & See and the latest advances in technology for singing training.
P.P.S. If you don't order right now for whatever reason, make sure that you sign up for our newsletter so that when you are ready to take this opportunity, you don't forget where to find it again!
System Requirements:
Student Version of Sing & See
We have produced a simplified version of the singing software, which only has the Pitch Feedback screen. This is designed for people who need help with pitch, but are perhaps not yet ready for the comprehensive spectrogram feedback in the Professional Version. It contains the same pitch tracking algorithms as the full version but without the spectrographic analysis or noise reduction features.



Review in Australian Voice
"I find the Sing and See software to be a useful tool in the modern singing studio when used in conjunction with traditional methods of teaching. One of the major strengths of Sing and See is the user-friendly task-bar, which minimises disruption to the flow of the lesson"
"According to the literature of the field, Sing and See compares favourably to other programs on the world market. The researchers (Callaghan, Wilson and Thorpe) have developed the program through extensive testing, and in publishing reports they have subjected their work to sound academic scrutiny"
-- Irene Bartlett (in Australian Voice, vol 12, p67, 2006)

"I have been using the Professional version for my students for about 2 weeks now ... the results are staggering! One student who has not been able to sing a descending major scale correctly just went home today having achieved it. She literally skipped out the door. It has breathed a new approach into my teaching as well..."
-- Patrice, Canada

Newsletter
Sign up for our newsletter to keep up to date with news about Sing & See and the latest advances in technology for singing training *

Review by CLRN
"We felt this was a wonderful resource that was valuable not only for feedback, but also as an assessment tool." ( read more )
-- California Learning Resource Network

" I highly recommend this application..."
-- Mike, binaryrhyme.com

"One of my students who has been singing for years with various teachers and a variety of genres exclaimed 'its the thing that's been missing'. What a joy to offer someone,one of the last missing jigsaw pieces in their training."
-- Lisa, New Zealand

"It's been really useful, especially for some of my students who really needed it but weren't quite believing what I was telling them..."
-- Glenese, NZ.

"My daughter, who has struggled with pitch issues, used Sing and See to prepare for a singing exam she particularly found it helpful with her scales and other technical skills (intervals) and when time came for the exam she had a near perfect score on the technical parts of the exam! Not bad for someone with pitch issues! I have another daughter preparing for an exam and she is also using Sing and See. We have found the program to be a huge benefit. "
-- Kathy, Calgary.

"I use a lot of technology in my studio. This program is a nice addition to the body of software that provides new and exciting tools to help me continue to grow as a voice teacher and singer."
-- Larry, WA

"I have enjoyed using Sing and See, especially good to show aspiring singers the spectrogram, in order to show them what physically makes the difference between different vowel sounds that are all sung 'on the same note'. "
-- Andrew Linacre - ACT, Australia

" I don't see why every singer doesn't use this tool. As a singer, you hear (or should hear) the music and pitches in your head as you vocalize a song. And this comes from remembering the music and the pitches. If you're singing off pitch, you're remembering, for recall, off pitch notes. I think any singer who is serious about their craft should definitely use this tool as part of their daily exercises to improve their pitch accuracy, and to help them better distinguish, pitch wise, between a sharp, flat and natural note."
-- Stephanie, NJ

"Sing & See is a wonderful piece of S/W that does many more things beyond my immediate goal of pitch tracking. The pitch tracking user-interface is esthetically pleasing and mostly intuitive in operation. ... The functional keyboard is a big plus as a convenient reference. "
-- Anne, CA

"This is a very useful product. My son has been using it to help with pitching when playing his trombone. Like a voice, it is very easy to wander around off pitch"
-- Robert, CT

"We have found Sing&See to be a useful teaching tool which we have implemented in each of our Studios."
-- Leanne Hoad - Adelaide, Australia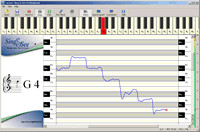 The Pitch screen shows you the exact pitch that the student sings - and exactly HOW they achieve each note. This information helps the student to better understand what they need to focus on to improve their technique.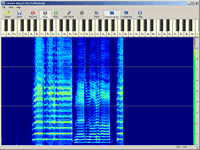 The Spectrogram screen shows the harmonic structure of the voice and how it changes during the singing as a two-dimensional picture. This helps to reveal resonance, vowel quality and consistency, onsets, breathiness, and many other details of vocal production.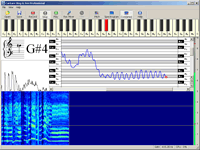 The Combination Screen shows combined voice pitch and spectrogram displays, together with a real-time spectral view that shows the harmonic structure from moment-to-moment. The sifferent displays provids you with a powerful tool for exploring vocal production with you students.

"We downloaded the new version update yesterday - GREAT improvement! We use the Pro program every day, with just about every voice student (around 60-65 students per week.) Invaluable tool!"
-- Bonnie, AZ

"it clearly explains things I have been telling my students to do … they have confidence in me when they are starting out … because it's all objective—like the computer can't lie."
-- Teacher, research study

"It was very useful for reinforcing what I knew but it did it so dramatically. … It reinforced the things that you knew but it did it so instantly that I think it was like somebody prodding you when you make a mistake."
-- Student, research study

"I sing, and see what it looks like, and then I remember the way it was sung."
-- Student, research study

"Sing and See really comes into its own when working with clients who are having trouble with intonation (pitch recognition). The visual representation on screen enables a client to make a better connection of the BodyMind."
-- Daniel Kay, Queensland, Australia

" one of the very successful things happening is working with students with the sight-reading who have nobody at home to listen to them and tell them if they are correct or not. I have a young boy right in the midst of the dreaded voice change and singing 1/2 tones are not happening, however, I made up a series of little exercises for him, and it truly is helping him. That also is helping him with his scales - particularly descending harmonic minor scales.
I love this Sing & See!"
-- Patrice, Canada

"As a retired technical guru, I did conduct some bench testing of frequency response and bandwidth across select octaves of chromatic scales, and was amazed as to accuracy of these results. I have found that "sing & see" provides many characteristics as an instrumental tuner, with great accuracy. "
-- John, TX

"I've suffered from chronic depression nearly all my life, and more than once the gift of singing has lifted me from despair. I want you to know that Sing and See has helped me sing better, and in that way your work has made a profound difference in my happiness."
--Bob, NJ

"The software [Sing and See] is helpful, it explains visually and convincingly what I am explaining to my students. It helps the students to monitor themselves as well as improving their sense of awareness, which is, I believe is essential in music learning, especially for abstract voice production! even me, this is my new toy, an educational new toy for me!"
--Caleb Woo Wing Ching,
Hong Kong


"I've got the pro package and love sharing it with my students. I'm excited about sing and see."
-- Guy, TX

"We've been having a fabulous time. It is particularly useful for my visual learners."
-- Lisa, New Zealand

" I'm really enjoying using "Sing and See". This tool, combined with the mutt I adopted from the pound who howls every time one of my singers hits the second partial well, has really moved my students along quickly."
-- Melinda, CA

"I've been waiting for this software to magically appear for years - if I could have written it myself I would have. I'm mostly a choral singer, and what I need right now is to make sure that my pitch doesn't change as I change volume (the classic messa di voce of course). Your software gives me the perfect way to practise this. Congratulations, and thank you."
--Don, UK

"My singing teacher uses sing and see herself which is what prompted me to finally buy the software. It is fantastic! It has helped many of my own students with their tuning. It helps even out my own tone and create a clean line."
-- Zoe, New Zealand

"So where's the bottom line? Sing and See is the ultimate pitch-training software, and after just one hour with Sing and See, I'm already beginning to notice a dramatic improvement in my sense of pitch. I highly recommend it."
--Lynn Blair, UK

"Before I rec'd the manual today and just going by instinct, I fixed two vocal problems with one of my students in 5 minutes. Just by him seeing what I had been saying about being true to his vowel and no "scoopies up to the note", he was able to adjust his singing. He has been a musical theatre singer for many years and is studying now at AMDA. He had to prepare a classical piece (Ich liebe dich) for them after the Xmas break. When he first sang it for me it was worthy of Broadway, but after using your system, it was worthy of the classical stage:)"
Thank you so much.
Patrice, Canada

"I have worked with a few students this week and it is quite interesting. It is surprising to have something objective suddenly appear in a voice lesson! It's not just my "opinion" or comment of the day. Students look at the screen, remain silent for a moment and often say themselves what is not right before I need to! One young girl discovered the lack of volume and energy in her voice. Another saw how his voice moved around too much on a held tone. Very interesting indeed!"
Susan, France


Order Sing & See here