Sing & See is a tool that can help you develop your voice by giving you precise real-time visual feedback on your pitch and vocal timbre. The feedback shows you what your voice is actually doing as you sing, and can help you focus in your practice, to check up on your pitch, your vibrato, your loudness, or details of the harmonics (overtones) in your voice.
"This software is Fantastic! I'm a new member of the church choir, struggling to learn the harmony. This program works!!! Have only been using it about an hour and I can hear the difference. Thanks for a great product. "

Matt McBride
Fredericksburg, VA, USA
Before reading on to hear what Sing & See can do to help you improve your singing skills, take a look at this video that shows how Sing & See is helping singing students Tarryn and Morgyn in their training.
You're about to discover an amazing voice training software tool that will help you achieve your singing goals faster than you've ever thought. Whether you want to be a professional singer, to perform better at the karaoke club, or just to enjoy yourself with more confidence in your singing. Whatever level you are at - a beginner, already taking lessons, or already a performing singer - then Sing & See vocal training software can help you improve your vocal skills and reach the next level in your quest to sing better and better.
Not only will our singing software Sing & See help you refine and improve your singing skills, it will give you increased confidence in your growing singing ability - as you sing, the software shows you what you are singing, giving you confirmation when you hit notes and intervals correctly, and allowing you to focus your practice when you are not quite there yet.
What Sing & See Voice Training Software can do for you
Sing & See enables you to actually see your voice on the computer screen - as you sing. The singing software contains sophisticated algorithms that analyse your voice to work out what pitch you're singing. It is then displayed on the computer screen in easy-to-understand displays.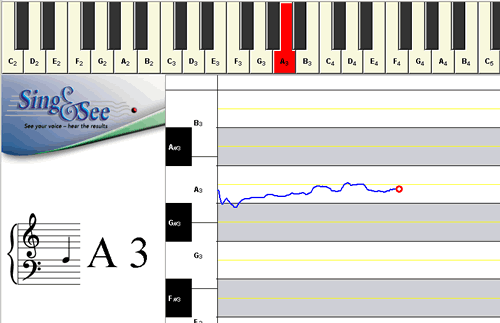 Sing & See Voice Pitch display - the note is shown clearly by the change of colour on the piano keyboard, and also by the stave-note display. The history of the sung note is shown by the blue line trailing the red dot.
Look closely at the screen behind the blue line. The display shows musical notes, arranged as on a piano keyboard tilted vertically. You can see the black and white keys along the side of the screen - labelled with the note names to help remind you what they are. So you see your voice pitch on an easy-to-understand visual musical scale.
Now, how about singing a simple interval. The software shows you not only whether you are hitting each note exactly, but how your voice makes the transition between notes. You can immediately see if you're tending to overshoot, for example, as you go from note to note - and then once you've spent some time practising and perfecting your technique you get confirmation that you're singing clean, accurate intervals.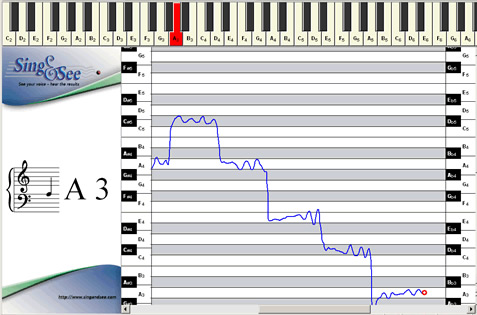 As well as showing you a line of the exact pitch your voice traces over time, Sing & See voice training software helps you to visualise your singing in a musical context. It highlights each note you sing on a virtual piano keyboard at the top of the screen, and also on a musical staff displayed on the left side. So you get an immediate visual understanding of how each pitch in your vocal range relates to music both as it is written and as it is played on the keyboard.
Not only do you SEE your sung notes, but the virtual keyboard in Sing & See can be played - either by clicking on the keys with your mouse or by keyboard shortcuts. So if you don't have a keyboard to help in your practising you can use the Sing & See keyboard to give you a pitch cue (even if you do, it's still very handy to be able to simply click on a key in Sing & See to hear the note, instead of having to reach over to your piano or keyboard).
Who developed Sing & See?
Sing & See Vocal Training Software was developed at the University of Sydney in Australia by a team of singing teachers and software engineers comprising individuals with a wide range of expertise and experience, from singing pedagogy and performing to acoustic analysis and software development.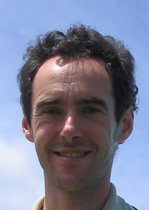 Dr William Thorpe is a scientist who spent several years working at the National Voice Centre and the School of Communication Sciences in the University of Sydney in Australia, doing research into how people sing - the physiology of their breathing, what it means to have good "breath support", the acoustic patterns of vocal projection, and various other aspects of singing performance.
In doing this research he worked with many top singing teachers, including Janice Chapman, Jo Estill, Jean Callaghan, Pat Wilson, and others. This research was published in scientific and music education journals and conferences around the world. If you are interested in finding out more about any of this research, you can contact William here.
Dr Jean Callaghan is a teacher, researcher, and consultant in vocal performance and pedagogy. At the University of Western Sydney she designed and delivered Australia's first full postgraduate qualification in singing pedagogy. She has worked as a professional singer in Australia, England and Germany and has taken leadership roles in the Australian National Association of Teachers of Singing (ANATS), the Australian Voice Association (AVA), and the Australian Association for Research in Music Education (AARME). Her book, Singing and Voice Science, explores modern voice science and scientific findings in the context of the musical concerns of the singer.You can view Jean's Studio website here.
Pat Wilson has worked for over 25 years as a singer, pianist, musical director, composer and teacher. She teaches at several tertiary drama training institutions, as well as maintaining a singing studio in her specialist field of music theatre performance. She has been an office-bearer at both the state and federal levels of ANATS. Her book The Singing Voice: An Owner's Manual,jointly published in Australia and the UK, is in its second edition. She has recently completed her Master's thesis in the use of visual feedback in learning to sing (using Sing & See), at the School of Communication Sciences and Disorders, University of Sydney. View Pat's studio website here.
Professor Jan van Doorn, a physicist with a long-standing interest in adapting technology to voice science, was one of the original researchers in the visual feedback research project. She is currently professor in speech science at Umeå University, Sweden.
Jonathon Crane has an honors degree in Computer Engineering from the University of New South Wales and was the primary software developer on the original version of Sing & See. His strong interest in music has resulted in several commercial releases, material from which he performs regularly. Jonathon is learning the piano and sings in a choir.
After the research project ended, we started a company to further develop the Sing & See software and make it available to singers and teachers around the world. Cantovation (of course, "Canto" is singing, and "Ovation" is what we hope you will be receiving after using Sing & See!) has the mission "to help people sing better and have more fun in their singing, by creating innovative technology that lets people improve and enjoy their voices". Sing & See is now being used in over 60 countries around the world, and it is very satisfying for us to hear feedback from singers using Sing & See about how it is helping them learn and sing better!
If you've come to this page you probably already know how important it is to get good feedback about your voice pitch and where you need to improve (and of course, where you're already sounding great!). If you have a teacher or vocal training coach then you'll be getting regular feedback during your classes about notes and phrases you're not getting right, and suggestions for how to improve (and even that feedback - usually given verbally - is sometimes not quite precise enough if you're having trouble with some technical issue - which is why many teachers are starting to use Sing & See vocal training software themselves in their studios, so their students can get a clearer "picture" of how their voices are working).
But when you're practising at home - or even more critically, if you don't currently have a teacher or coach to tell you what you need to improve in your voice - you're basically on your own when it comes to checking whether you're making notes cleanly and accurately. How much better could you sing? How much more accurate could you hit each note? How much cleaner could those note transitions be? How much more focussed could your practising be? How much more confident could you be in your singing? If you could SEE your voice - and know exactly whether it is sung well - on or off the note, clean or scooped, clear, steady, rough, good vibrato, supported or sagging?
These are some of the many reasons that singers (and singing teachers) all around the world are using the Sing & See voice training software in their training. You can read some of their feedback to us on this page. You now have the opportunity to join these singers and start to SEE real progress in your singing - progress towards achieving your goals as a better and more confident singer. Read on to find out how to order and start using our Sing & See voice training software on your own computer immediately.
As soon as you order Sing & See through our online order system, you are given a link to download the singing software and a unique private Product Key that will let you install it onto your computer. So you can start to use it straight away. You will also be emailed this information so that you can download it later when it's convenient, or if you normally use a different computer.
You can also choose to have a CD-ROM containing the singing software shipped to your address in addition to the immediate download. The CD-ROM and download versions are identical.

We use Paypal to process all payments and are a Paypal Verified business. Paypal securely handles all your credit card or bank account details (they have a choice of different methods for payment). Once your payment is complete they notify us and we then finalise your order. Paypal are probably the largest online payments company (they are part of eBay) and offer extremely high security including a policy of "100% protection" against fraud.
As soon as we receive confirmation from Paypal that your payment has been processed (this usually takes only a few seconds, unless you choose to pay by electronic check in which case it can take a few days for the payment to clear) our server automatically generates a unique Product Key and emails it to you together with the download link and detailed instructions for installing the software on your PC. Paypal also sends you an email confirming your order, so you have an independent record of your payment, and if you are dissatisfied you can even ask them to intervene.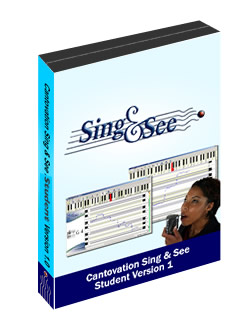 For advanced and professional singers - Advanced vocal training
If you are an advanced singer then you may prefer the Professional Version of Sing & See which includes advanced spectrographic analysis. (as you can see being used in the video at the top of this page).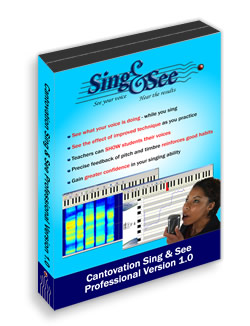 Note: We only recommend this version for singers who are advanced and either have a teacher or have already had extensive vocal training and a good understanding of how the voice works. Otherwise you're not going to get the full benefit and you might as well get the cheaper Student version. You can always upgrade later on when you're really ready for it.
I look forward to getting a letter from you, telling me about your experiences with Sing & See, how the voice training is working for you and about your latest singing success story! I love to hear from people about how they are finding new confidence in their singing skills and the success that is bringing them - after all, the reason we created this singing software in the first place was to help people sing better - and have more fun in their singing!
All the best for your singing success!

William Thorpe
Singandsee.com
P.S. Remember, your order is 100% risk-free, with protection given by Paypal and our own 100% satisfaction guarantee. If you prefer to order by telephone or Purchase Order, contact us directly and ask for an order form.
Free Information
Sign up for our free information newsletter to keep up to date with news about Sing & See and the latest advances in technology for voice training.
P.P.S. If you don't order right now for whatever reason, make sure that you sign up for our informational newsletter so that when you are ready to take this opportunity, you don't forget where to find it again!
System Requirements:
800MHz Pentium CPU or equivalent
256 MB RAM or higher
Windows 2000/ XP/ 2003 / Vista / Windows 7
OR Mac OS X running on an Intel machine (requires Mac OS X 10.5 or later as detailed here.)
Internet access to register singing software
Microphone and sound input.
Speakers or headphones



Here's what a few of our customers are saying about Sing & See:

"I LOVE sing and see. I always do my practicing with it - or just for fun. I can't imagine not having the visual feedback now that I've grown accustomed to it. It's wonderful software! "
-- Nicole, Canada

"I used your product (See and Sing) for the first time 2 months ago. Blown Away by my progress using the software. Computer training is the wave of the future."
-- John, MI

"So where's the bottom line? Sing and See is the ultimate pitch-training software, and after just one hour with Sing and See, I'm already beginning to notice a dramatic improvement in my sense of pitch. I highly recommend it."
--Lynn Blair, UK
Free Information
Sign up for our free information newsletter to keep up to date with news about Sing & See and the latest advances in technology for singing training.

"I've been waiting for this software to magically appear for years - if I could have written it myself I would have. I'm mostly a choral singer, and what I need right now is to make sure that my pitch doesn't change as I change volume (the classic messa di voce of course). Your software gives me the perfect way to practise this. Congratulations, and thank you."
--Don, UK

"I just purchased your SW tonight, as I am a bad singer - apparently my voice is ok, but I sing the wrong notes, and I am hoping it will help me. From first impressions, I think it will, but it also very clearly shows me that I have a lot of work to do! Anyway, very impressed with the SW so far"
-- Simon, Germany

"it helped reinforce things I knew and because I am coming to singing older and because I am trying to change how to do something, that is a lot harder than changing something intellectually because you are trying to change the body; so I think it sharpened my understanding of where I was losing those things that I knew"
-- Student, research study

"This is AMAZING software! I've never really even thought I could sing, and honestly thought my choir director was just being kind when he'd tell me I was on pitch...but now that I can SEE that I'm on pitch, it is giving me a lot more confidence to increase my volume!"
-- Sharon, TN

"I sing in a number of singing groups including a small a cappella choir. I use Sing & See when I'm practising at home to check my tuning and pitching. It quickly identifies when I am inaccurate, prompting me to pracise specific sections, and boosts my confidence enormously if I am singing consistently in tune."
-- Joyce, UK

"I use a lot of technology in my studio. This program is a nice addition to the body of software that provides new and exciting tools to help me continue to grow as a voice teacher and singer."
-- Larry, WA

"I enjoy using your product.. My main purpose for purchasing "Sing & See" was to help me determine what key my vocal range would fall in, when singing various songs. My genre's are primarily bluegrass, folk, and 50's country & western. On a regular basis, I participate in bluegrass jam sessions where I play banjo & dobro, and have other musicians play backup when I opt to sing. I am sure that you have more sophisticated artists who also find your product useful. "
-- John, TX

"I've tried what you suggested and it works perfectly fine. I was glad to know that I don't need to buy or try more stuff. It's working great thanks to you and all your help. Thank you very much for everything, I will recommend Sing & See to other singer friends."
-- Pablo, CA

"it clearly explains things I have been telling my students to do … they have confidence in me when they are starting out … because it's all objective—like the computer can't lie."
-- Teacher, research study

"It was very useful for reinforcing what I knew but it did it so dramatically. … It reinforced the things that you knew but it did it so instantly that I think it was like somebody prodding you when you make a mistake."
-- Student, research study

"This is a very useful product. My son has been using it to help with pitching when playing his trombone. Like a voice, it is very easy to wander around off pitch"
- Rob, CT

"Sing & See is a wonderful piece of S/W that does many more things beyond my immediate goal of pitch tracking. The pitch tracking user-interface is esthetically pleasing and mostly intuitive in operation. ... The functional keyboard is a big plus as a convenient reference. "
-- Anne, CA

"I have downloaded Sing and See and am impressed at how it can show you the actual notes you are singing."
-- Ted, VA

"I think it is a great tool to help me stay on pitch and to build resonance."
-- Kathie, AZ

"I use Sing and See to check my pitch on songs while practicing my part alone, especially on those songs where I have a bass pickup notes, to ensure that I am exactly on pitch. The visual feedback helps tremendously in establishing the correct pitches into my brain muscle memory, much more so than trying to match a pitch pipe. "
-- Walt, TX

" I don't see why every singer doesn't use this tool. As a singer, you hear (or should hear) the music and pitches in your head as you vocalize a song. And this comes from remembering the music and the pitches. If you're singing off pitch, you're remembering, for recall, off pitch notes. I think any singer who is serious about their craft should definitely use this tool as part of their daily exercises to improve their pitch accuracy, and to help them better distinguish, pitch wise, between a sharp, flat and natural note. "
-- Stephanie, NJ

"It certainly shows my pitch is a bit rusty since I stopped singing seriously. Maybe it always was! :) "
--Tom, NZ

"As a retired technical guru, I did conduct some bench testing of frequency response and bandwidth across select octaves of chromatic scales, and was amazed as to accuracy of these results. I have found that "sing & see" provides many characteristics as an instrumental tuner, with great accuracy. "
-- John, TX

"I just ordered your software and absolutely love it! "
-- Kris, CO

"I love the sing & see software. I discovered that my computer can act as a musical keyboard! How cool is that!"
-- Kathryn, CA

"My singing teacher uses sing and see herself which is what prompted me to finally buy the software. It is fantastic! It has helped many of my students with their tuning. It helps even out my own tone and create a clean line."
-- Zoe, New Zealand

"I really like Sing & See and by using it regularly I have improved my sight reading.
-- Dave, UK

"I have played guitar for 25 years but have always shyed away from singing because I'm not always in tune. This year I've decided to learn some songs and perform them at a local folk club. I've been videoing myself playing, watching it back, (and cringing!) analysing it, (working on the off notes with a piano) and repeating the process.
Now that I have SingandSee I am progressing so much faster even tho' Ive only had it a few days - it's brilliant!"
-- Mike, UK

"Just a quick note to let you know I absolutely love the Sing & See program. It has already helped me to improve singing my solfege on pitch. Of course, because I don't want to stop practicing with it, I'm not doing any of my music theory... "
-- Stephanie, NJ

"This is so cool! Thanks! "
-- Cate, NZ

"I sing, and see what it looks like, and then I remember the way it was sung."
-- Student, research study